Connectpoint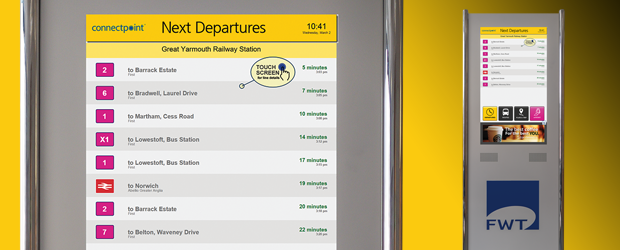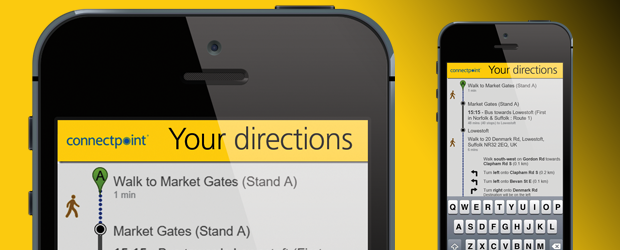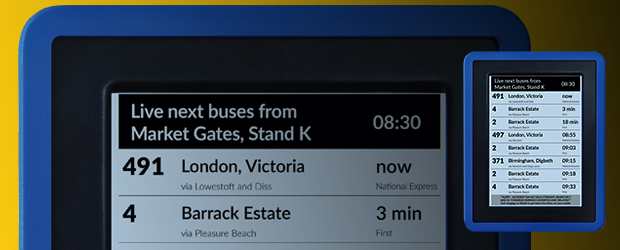 Welcome to FWT's digital wayfinding solutions, Connectpoint.
Unveiled at the 2016 Smarter Travel show, FWT's suite of digital wayfinding products fall under the recently launched 'Connectpoint' umbrella.
Our Connectpoint products are a new range of interactive touch-screen information screens and e-paper bus stop information displays, both of which will be on the ground in live environments in the UK in 2016.
Touch screen
When used at public transports hubs such as a bus or rail station, the interactive screen software can provide members of the public instant access to real time departures, bus & rail routes and journey planning through a clear, intuitive touch-screen interface.
Our developers have enhanced the user experience of the software for disabled users by ensuring that the screens meet accessibility guidelines and we will be constantly looking to improve on this further in future updates.
All journeys planned via the software can be instantly sent to a users mobile phone, allowing the public to walk away from the Connectpoint screen with their specific journey.
All screens contain content areas that can allow a local authority or bus and rail operator the ability to either announce public service messages, promote mTicketing apps, local businesses or product discounts.